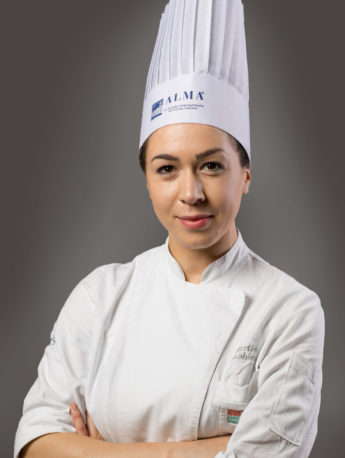 As with many professionals in the kitchen industry who are now established Chefs and benchmarks in their field of expertise, for Martina Sabbioni the road to sealing her professional achievement was long and not exactly in line with her true goals.
In fact, her university studies turned to Sports Management, something that certainly intrigued her but had nothing to do with her passion, which was consumed among fires and stoves and ignited among aromas and scents. The gradually growing awareness of what she wanted to be one day prompted her to enroll in ALMA where she first attended the Culinary Techniques Course then the Advanced Course in Italian Cuisine; here she had "the vibration" that confirmed she had made the right choice.
The experiences she subsequently had thanks to ALMA, as well as the internship at Splendido di Portofino, allowed her to put into practice what she had learned and to elevate her ability to interact and relate with the brigade.
After gaining the awareness of wanting to pass on her passion for cooking to those who decided to chart their own professional path in this area, Martina Sabbioni then returned to ALMA where she became a kitchen assistant, a role that allowed her to look behind the scenes of lessons and teaching mechanisms, working elbow to elbow with the Chef Teachers and Guest Chefs who took turns in the chair, meeting Masters and capturing experiences that not even the longest apprenticeship would have allowed her, such as Piergiorgio Parini, Paolo Lo Priore, Frederic Desmurs. Strong in her background and determined to "light flames" in the school's students, Martina Sabbioni became a teacher for international courses, thanks in part to her mastery of English.
Entering the ALMA world, however, also means preparing for major evolutions, changes of pace and perspectives, to follow the constant innovations that, by its very nature, this School chases every day. So here, out of any program, comes the opportunity to move to Thailand, on the other side of the world, and teach an audience of students seeking cultural and technical background on Italian cuisine. No hesitation, because even that could have been an opportunity for growth, the kind she has always sought in her path and therefore could not be refused!
Today Martina Sabbioni is a Teacher Chef in Cuisine at The Food School in Bangkok.
The teacher's courses