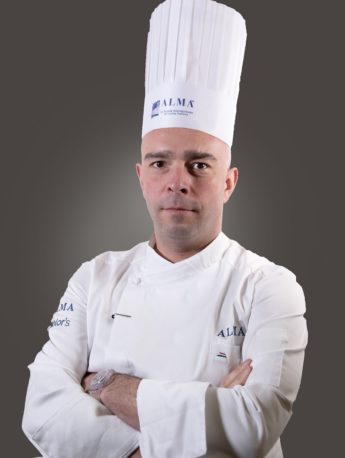 Contrary to most in this sector, the carrier of Chef Matteo Monti has not been characterized by a long list of short stints, but rather by few and defining key stages that along the years have contributed to enriching the professional growth of this ALMA teacher in terms of technique, culture and ethics. Each of these milestones featured great masters of the international gastronomic scene. How could that be wrong, considering that among these figures appear the names of Paolo Lopriore or Davide Scabin? Let's proceed with order!
Matteo Monti obtained his diploma of electrical engineering technician and he knew right away that it would have been put inside the drawer of possibilities. He acted on his aspiration to become a chef and enrolled in the School of Hotel Management of Gazzano in the Villa Minozzo mountain area surrounding Reggio. During this period of studies, he had his first experiences in the kitchen and the dining room. He began to understand the profound synergistic dynamics of the art of hospitality, and the fast pace in learning the skills needed to carry out his profession. The first leg in Monti's journey was at Carla Aradelli's restaurant Riva di Ponte dell'Olio; love for haute cuisine started here, as he discovered the many facets that make a dish a Great Dish. Transported by this newly experienced passion and in search for a new scene to express it, Matteo Monti moved to the kitchen of the Antica Osteria del Teatro, and stayed with Filippo Chiappini Dattilo's brigade for over 4 years. In this brigade he met Alessandro Panichi and Tommaso Negri, two colleagues and, first of all, friends. They introduced him to one of the masters of Italian gastronomic avant-guard: Paolo Lopriore The tale of Lopriore's cuisine, his concepts, his innovative approach is so thrilling and dazzling that it convinces the young chef to move from the hills of Siena to Certosa di Maggiano, where Lopriore setup his creative factory of ideas. Budding ideas become dishes. During his stay at the Certosa, Monti refined his techniques, especially the dimension of taste and the range of his knowledge in this area expands thanks to his mentor's genius. A cooperation that has continued also after Lopriore chose Monti as his successor in that kitchen. After Tuscany, the time came for Northern experimentations at the renowned Bagatelle of Oslo. Upon his return to Italy, he met another master: Davide Scabin at his Combal. Zero. Having expanded his taste with Lopriore, acquired structure with Scabin, he innovated texture.  After a last stint in the kitchen at Rebelot sui Navigli in Milan, Monti arrived at ALMA as a member of the educational cooking courses, counting on the important experiences made and wanting to transmit them to the new generations of future chefs.
Today he is Teacher of Cuisine at the Advanced Course in Italian Cuisine.
Favourite dish to eat: Everything! But Pasta "is in my heart"…
Favourite dish to cook: Everything!
Cooking in 3 words: Knowledgeod, Instinct, Love
The teacher's courses