"Dear students, dear teachers, dear friends, I can proudly say, without fear of exaggeration, that it is also down to me if ALMA is what it is today. I'm not sure if it is more my own offspring, or something I have taken under my wing. Perhaps it is a bit of both. I feel part mother and part father of this wonderful school. People come here to learn the foundations of the profession, and to acquire the techniques needed to honour Italian cuisine and render it great. Great things can only be achieved through hard study and tirelessly practising the craft…"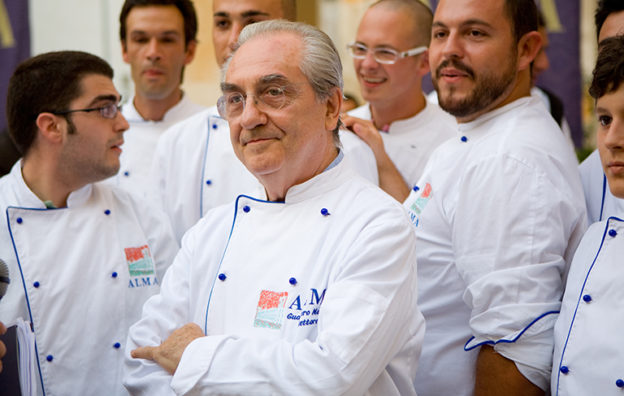 Gualtiero Marchesi has a vocation for cooking. His inspiration came from his parents, who owned the hotel restaurant Al Mercato, in Milan's Via Bezzecca.
The passion for drawing and music, particularly opera, and the sensitive, professional approach adopted each day, set the restaurant apart from others in Milan. In 1977, Marchesi opened his first restaurant in Via Bonvesin della Riva.
Twenty years later, Gualtiero Marchesi moved to Franciacorta, to Albereta di Erbusco. In 2008, he opened 'IL MARCHESINO' Restaurant at La Scala Theatre in Milan. He has earned countless awards and prizes over the course of a career spanning more than sixty years.
From 2004 to 2017 he has been the Dean of ALMA, the International School of Italian Cuisine. Courses at ALMA are also inspired by the teachings which the Maestro himself has left to our School. His vision is a legacy left to Italy as a whole, which is indebted to him for bringing its cuisine into the modern age.