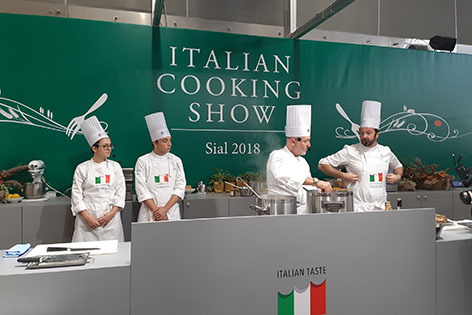 Ice-agency organizes cooking workshop, led by alma chefs, to introduce you to the quintessence of italian gastronomy. For the 2018 edition of SIAL, ICE-Agency will be organizing cooking workshops to introduce you to the quintessence of its gastronomy.
Four daily workshops will take you to the heart of Italy through recipes exclusively made of AOP products. Syracuse lemons, mozzarella di bufala, olives and oils, Bronte pistachio, San Gimignano saffron, Alto Adige speck, Parmigiano Reggiano and a selection of pasta, rice, meat and other vegetables, not to mention the sweet treats… your taste buds will be in turmoil!
Each day will be dedicated to a different topic related to Italian food wide range products.
THE Air
With the influence of the wind on the Italian cuisine, from Sicily to Liguria.
THE EARTH
Cradle of the country's gastronomy.
THE WATER With all the variety of rice in the traditional cuisine.
THE FIRE
When the flavours cross the hills, the mountains and the volcanos.
THE FIFTH ELEMENT
As a symbol of the territory and the intervention of the humanity which, together, offer the best of Italy. It will stage unic typical products, result of an incredible biodiversity. Culinary demonstrations will be led by Italian chefs from ALMA – The International School of Italian Cuisine like Antonella Ricci and Alessandro Breda, both Michelin-starred chefs. They will share with you their knowledge of Italian products, their knowhow and their passion for the Italian flavours. Enjoy!