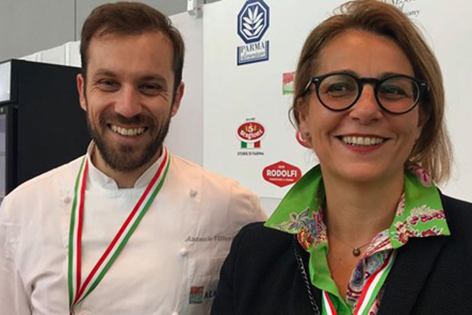 It is time for the Summer Fancy Food Show, the most important food marketplace of north America. The goal is to support the growth of Italian food export in North America, promoting the excellences of the food valley thanks also to the presence of alma with the chef Antonio Villani and the president Enzo Malanca.
It is considered the biggest food and beverage marketplace of North America, with more than 2.400 exhibitors – of which 1,100 non-Americans and coming from 54 countries – and 34.000 professional visitors expected, experts in retail, horeca and foodservice: it is the Summer Fancy Food Show of New York. Also this year, Parma Alimentare, association created for the promotion of the excellences in the Food Valley, took part in the event from June 30 to July 2 in New York.
As the executive manager of Parma Alimentare Alessandra Foppiano reports: «New York is the main gateway to North America: it is a historically strategic market for the Parma food sector, especially if we think that the United States represent the first extra UE market – and the third in the world – for our food export. For this reason, it is very important for us to be present at the Summer Fancy Food Show. Our presence as exhibitors at this event does not exhaust the business mission of Parma Alimentare in the United States».
"We will collaborate with ITA – Italian Trade Agency and Fiere di Parma, among other partners, in the project of the all-Italian Buyers' Lounge that will be set up at the River Pavilion of the Javits Center. From here the idea of a dedicated space, where to promote the authenticity of the Italian Food & Wine by making known the excellent food and wine of the area to visitors of the Summer Fancy Food Show. Also the president of ALMA Enzo Malanca will be present, accompanied by chef Antonio Villani who will sign the culinary proposals. ALMA is a partner we choose for its roots in the Parma territory, its authority, as it is the most important centre in the world dedicated to training in Italian cuisine, and for its internationality, as ALMA graduates are ambassadors of Italian food excellence".