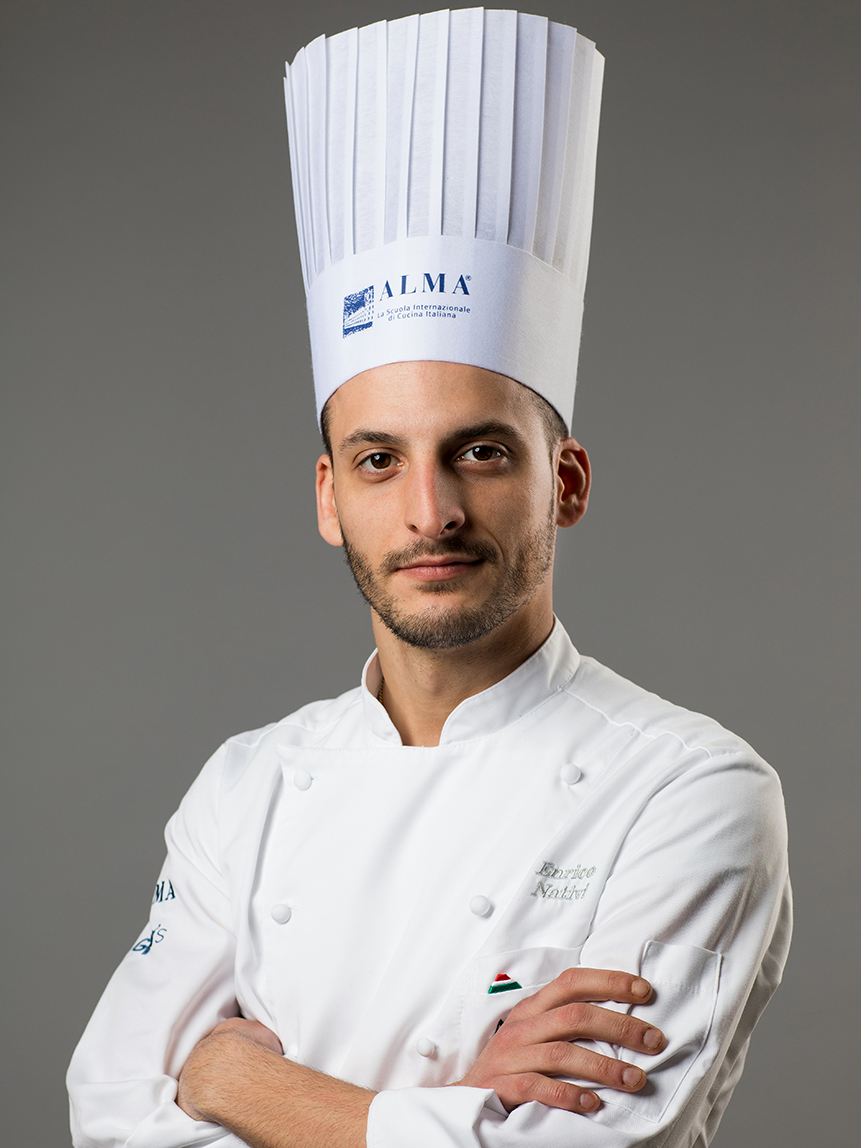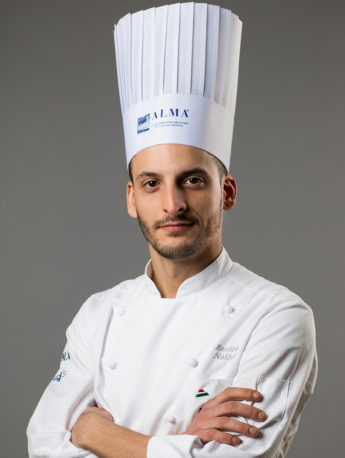 Favourite dessert to eat:
semifreddo with smoked sugar, liquorice and aniseed (Paolo Lopriore).
Favourite dessert to cook:
ice cream
Pastry and desserts in 3 words:
timing, techniques, temperature
Enrico Nativi is one of the youngest Teaching Chefs in ALMA. In 1989, in Bologna, nobody knew who he would become, nobody had any idea what job he would choose to do when he grew up. Instead of studying, he preferred to spend whole afternoons in his grandmother's company, rolling out the dough by hand to make tortellini. After training at the Serramazzoni Hotel School, by a very direct route, home cooking turned into professional cuisine, still retaining the connection with the local traditions of a land that is proud of its provincial principles.
After a first apprenticeship in the best Bologna taverns, producing lasagne and tortellini, Chef Nativi was forced to retrace his steps, for once faltering in the strong self-confidence he had shown since he was a baby. It seems that the scent of eggs and sugar had begun to ensnare him, making him think that a good Chef must necessarily learn the basics of pastry cooking. Nothing could be more right. ALMA and the Advanced Pastry Course were the springboard for diving into the sea of sucrose that was awaiting him. He forged ahead and after gaining some experience working for pastry shops he landed at Enrico Crippa's Piazza Duomo Restaurant in Alba. The small flame within him became a burning fire that opened up the way to a highly technical, as well as communicative, approach. The importance of gestures, of the message that a pastry chef wants to express through his dessert became the distinguishing characteristics of a professional capable of conveying beauty.
In 2015 he returned to the Ducal Palace of Colorno, this time as teacher first of the Pastry Techniques Course and, now, of the Advanced Pastry Course.
Topic: Harmony and balance in shape and taste. The same ingredient can take on different taste structures when formed into different shapes. An ingredient in the shape of a sphere, a cube, a triangle, or a bar of cream or air changes its flavour when it touches the palate. It is a play of nuances that make up the colour scale of taste.
The teacher's courses