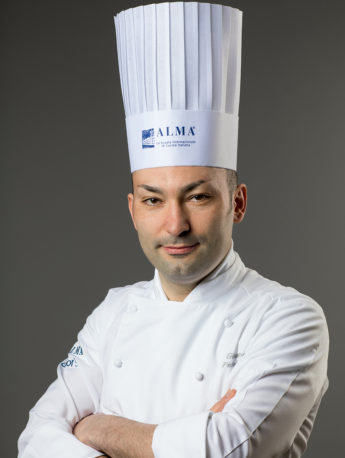 Favourite dish to eat:
spaghetti with garlic, oil and chilli
Favourite dish to cook:
spaghetti with garlic, oil and chilli
Cooking in 3 words:
sacrifice, love, passion
Giuseppe Pellegrino was born in Cosenza in 1984. Naturally organized and precise, he thought he would become a mechanic, but when the time came to choose his vocational training his father encouraged him to enrol in a Hotel School. This turned out to be precious advice because Giuseppe found his calling among the pots and pans. He was fascinated by every aspect of the culinary art, from the carving technique to the different methods, and never neglected the aesthetic appearance that food must have before being served.
He was attracted by the ceremonial side of the profession, which led him to work in different 5- star function rooms in the Cosenza area, providing a triumph of attentions in the service of large numbers. Pellegrino learnt right away how to combine professionalism with production and quality with decoration. He understood the importance of creativity in work and gave free rein to his imagination. He saw hard work turn into sacrifice and then saw this same sacrifice turn into satisfaction. Ambition pushed him to work in restaurants all over Italy, in search of different gastronomic cultures, with the aim of acquiring a complete palate supported by outstanding technical skills.
His intense desire to learn led him to attend, as external commissioner, the final exams of different Hotel Schools. He also attended the Alma Maestro project, a series of masterclasses for hotel school teachers, and later took part in Alma's 2015 Summer School. The epiphany he experienced within the Ducal Palace of Colorno led him to put down roots in the Emilia region. The position of chef teacher of the Cooking Techniques Course was just around the corner and since 2016 Pellegrino has been the point of reference for aspiring new chefs.
Topic: the aesthetics of food… Because it must be a feast for the eyes, too
The teacher's courses