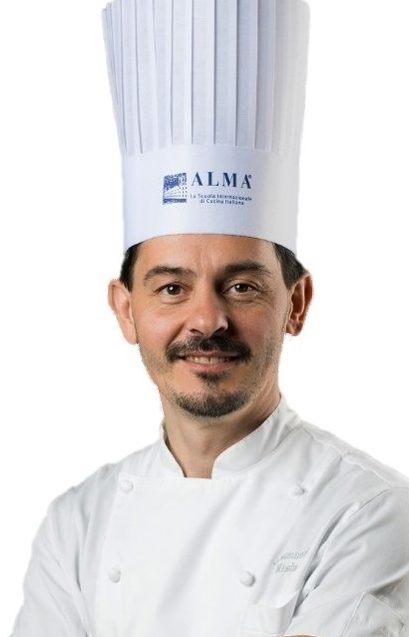 Alessandro Masia is a man who doesn't like to waste time. He learnt very early on to use the culinary art as a bargaining chip, exchanging delicious dishes for forgiveness. Forgiveness for the mornings spent at the stove instead of at his school desk. Shortcuts fascinate him, not as being the shortest road, but as the quickest and most direct way to achieve his goal, that of entering the world of haute cuisine. After leaving Sardinia, in 2 years of full immersion he obtained his diploma at Nettuno's Regional School. It was a liberation, the passport to a world waiting to be explored, working in different kitchens and pastry shops. The stars of restaurants and hotels began to trace the outline of Masia's working life: from Riccione he moved to St Moritz, then back to Sardinia at Cala di Volpe, and next to Rome at the Eden Hotel.
Masia, who in the meantime had established himself as a superb pastry chef, began to feel confined in Italy. It was the turn of London, where he spent a year learning about the world of international pastry, without at the same time neglecting the art of gourmet restaurant desserts. It was a rewarding experience both from a human and a professional point of view, followed by the invitation to become Head Pastry Chef at the Cracco Peck restaurant. The next stage in Masia's career was dictated, at least apparently, more by the heart than by reason. He turned down the opportunity of joining Ferran Adrià's team in favour of a change of direction that saw him working as Chef on the Australian coast.
With his mind more open than ever before, after experiences in London and Hong Kong in 2013 Masia landed at ALMA as teacher of the Advanced Pastry Course and Head of the International Pastry Courses.
Favourite dessert to eat: St. Honoré cake
Favourite dessert to cook: soufflé
Cooking in 3 words: pleasure, experimentation, satisfaction of others