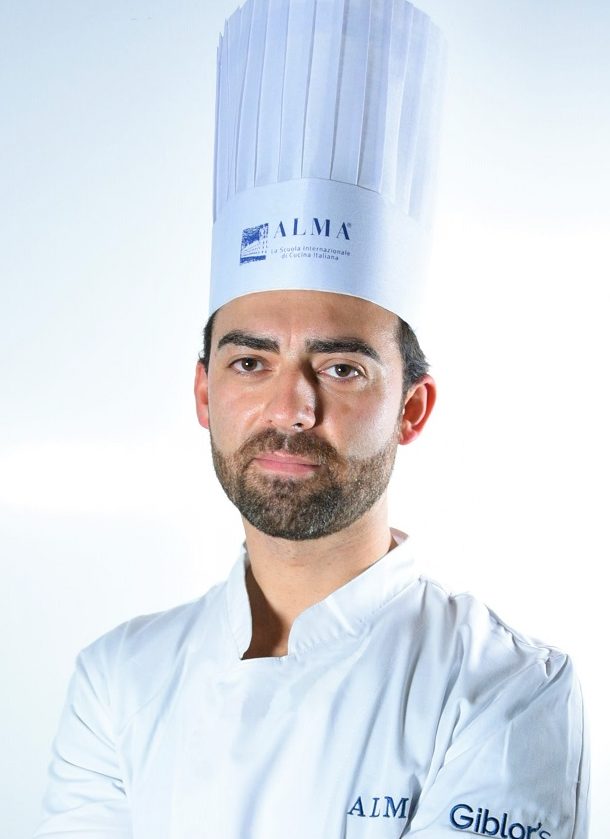 Born in 1988, raised in Versilia, he always had a passion for cooking, handed down from his grandmother in the family farm. With the help of Professor Paganini, at the time excecutive-chef , he entered the Hotel Byron's restaurant La Magnolia *, where he moved his first steps in the kitchen of Michelin-starred chef Andrea Mattei. After the seasons at the Hotel Byron, Diego decides to deepen his knowledge in confectionery by working in the best pastry shops and kitchens in Italy, in close contact with confectioners of the caliber of Didiet Couet, French Mof, Rolando Morandin, Frederic Bourse and Davide Comaschi . In 2009 he became pastry chef at the Principe di Piemonte **, before returning to work with the chef Andrea Mattei inside the Relais Chateaux Borgo Santo Pietro *, in the province of Siena. From there the experience at Geranium *** in Cophenagen where Diego opens a new concept of cuisine: dynamism and organization become the cornerstone, without ever forgetting its origins and its memories. In 2018 the new project with Filippo di Bartola, with whom Diego shares the vision of a kitchen in which the application is not based only on the execution but mainly on the emotions that the dish leaves and on the fun that the customer has in tasting it, concept which consolidates with the internship at El Celler de Can Roca ***, alongside Joan and Jordi Roca. He is currently Chef Pastry Chef at St. Hubertus ***, alongside chef Norbert Niederkofler.
He becomes an ALMA Chef Ambassador in 2018 after the experience spent in Istanbul, an incredible opportunity to share Italian gastronomic values ​​such as "respect and selection of the raw materials to which we must give value and importance in the recipe without overturning it".
For chef Poli, a dinner or a lunch, for the Italians, means much more than simply eating: it is synonymous with a culture that conceives food as an expression of creativity, passion and joy in making oneself and others feel good , and that is maximized in sharing. "Conviviality is an experience: those who come to Italy experience it, and do not easily forget".
Favorite dish to taste: I find myself in dishes connected to my tradition: like the game and the less used parts of poultry, or a nice sandwich with lampredotto and green sauce. The passion for pastry is always strong in me and I can't forget a "Pesca di Prato".
Favorite dish to cook: I love cooking cereals like a nice risotto or Orzotto or Farro because you can give structure, creaminess and creativity.
3 words to define the kitchen: Passion – Product – "Piracy" / Going out of the ordinary / Unconventional