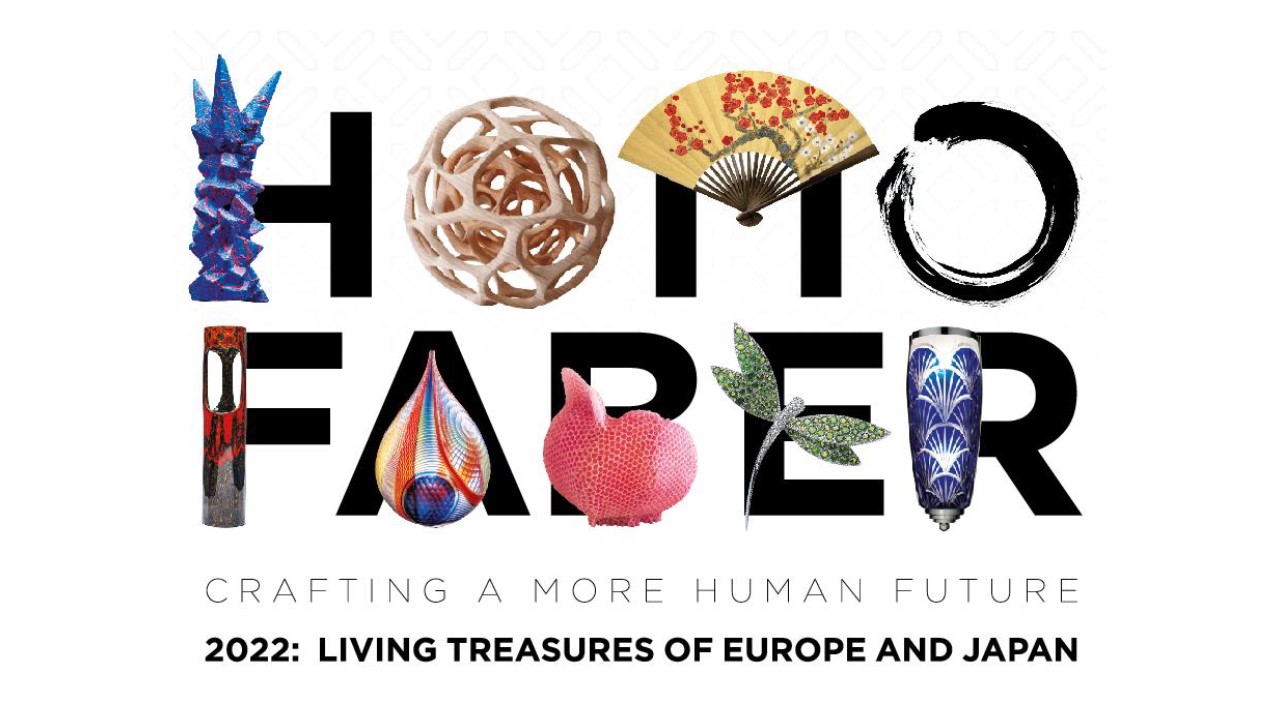 Craftsmanship, its materials and techniques and the Masters who espress its value are the protagonists of Homo Faber, the international exhibition that from April 10th to May 1st populates San Giorgio Island, the small jewel set in the Venice Lagoon.  Immersive digital experiences and creative displays of handcrafted creations, with everyday objects and exceptional decorative pieces will turn the spotlight on the strategic role and indisputable value of craftsmanship in the creation of a more sustainable and inclusive future. Specifically, this second edition celebrates the 'living treasures' of craftsmanship through 15 spaces that invite visitors to live the connection between Europe and Japan.
Within this context full of art and culture, ALMA creates the ALMA Circle, a unique gastronomic experience in connection with art, culture and great Italian craftsmanship of taste, a contribution that is perfectly in line with the mood of the event. Realised in collaboration with San Giorgio Cafè, this journey through flavours offers different tasting sessions and a fine dining menu in the enchanting setting of the Compagnia della Vela, with the emphasis on two particular focuses: Italy's food and wine heritage and its Masters of Art and Craft.
Below, information and details.
The artisans selected for this edition of Homo Faber Event represent the diversity of crafts, cultures, customs, human talents and life stories around the world and across the generations, from young talents taking over a family business to long-established masters sharing their knowledge with the next generation.
Together, the more than 400 artisans showcased in the event demonstrate the depth and breadth of craftsmanship in Europe, Japan and beyond, and its continuing relevance to all our lives.
An immersive event, it invites visitors to not only admire the objects on display, but to get up close to craftsmanship and witness artisanal skills in action.
For the first time, Homo Faber Event goes beyond the walls of Fondazione Giorgio Cini to allow visitors to experience the craftsmanship hidden between Venice's canals. More than 100 artisanal workshops, businesses and museums across the lagoon city will open their doors as part of Homo Faber in Città. Using the app or website, visitors can create bespoke self-guided craft tours according to their interests.
This second edition of Homo Faber Event urges visitors to reflect on the nature of craft and its place in our everyday lives: from our homes and our wardrobes to the wider worlds of theatre, music, cuisine and flower design. Not only does the event present unique decorative objects which would take pride of place on our mantelpieces, but it also shows how craft is essential to creating exquisite functional objects that enhance our daily lives better than any machine-made piece.

APRIL 9TH, THE OPENING
---
The Michelangelo Foundation for Creativity and Craftsmanship and its partners welcomed journalists, cultural commentators and key figures in the international arts and design world to Venice to celebrate the opening of Homo Faber Event 2022.
The ribbon was cut by Professor Giovanni Bazoli, Chairman of the Fondazione Giorgio Cini, and Franco Cologni, Co-founder of the Michelangelo Foundation, accompanied by some of the event's Young Ambassadors, students representing the future of craftsmanship, who will guide visitors around the exhibitions. Speakers at the opening ceremony included Simone Venturini, Deputy Mayor of Venice in charge of economic development; Judith Clark, fashion exhibition designer, Professor of Fashion and Museology at University of the Arts London, and a curator of Homo Faber Event; and Inès Mesmar, Director and Founder of La Fabrique Nomade, the French association which aids the professional integration of migrant and refugee craftspeople. They were joined by the curators of Homo Faber Event including general curator Alberto Cavalli, Executive Director of the Michelangelo Foundation.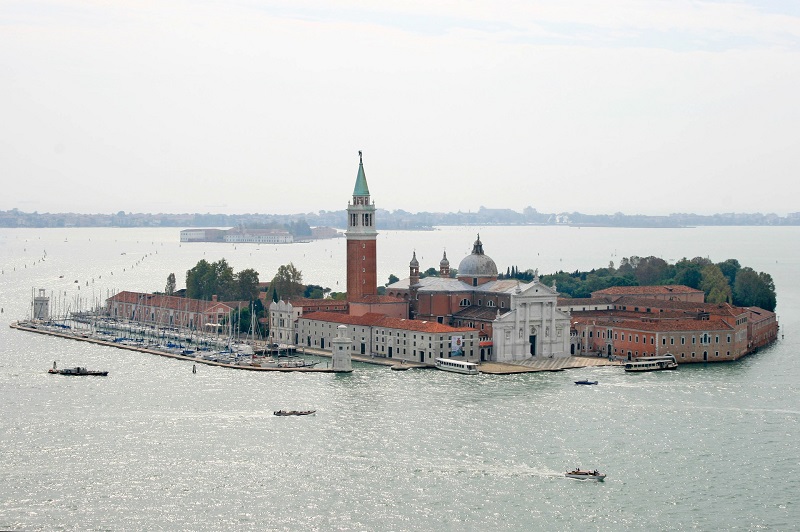 • 15 exhibition spaces dedicated to different aspects of craftsmanship, imagined by a team of world-class designers, curators and architects
• Unique work by over 400 artisans and designers from more than 40 countries
• More than 850 objects representing 110 different crafts
• A focus on Japan including pieces by 12 Japanese National Living Treasures
• 65 artisans demonstrating their crafts live
• 100 immersive experiences through Homo Faber in Città, a chance to explore craftsmanship across Venice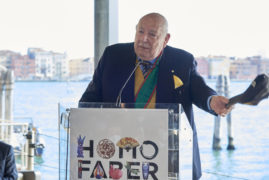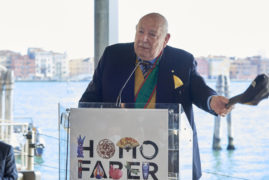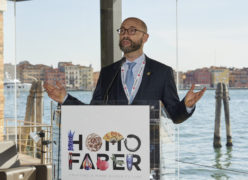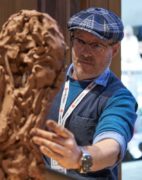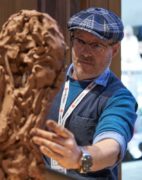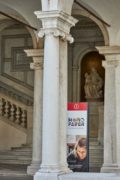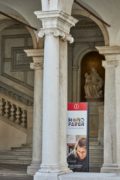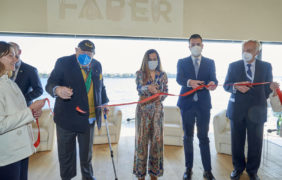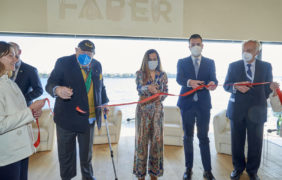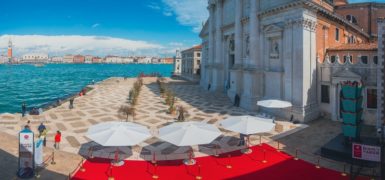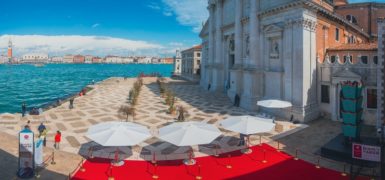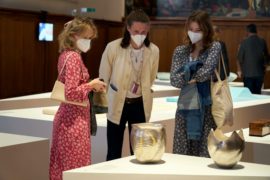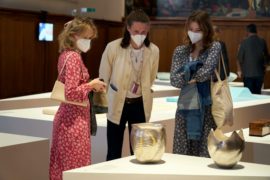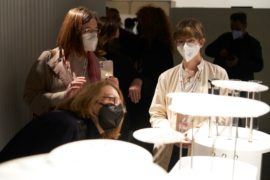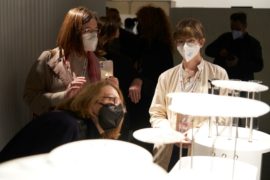 ALMA Circle - Experience the taste of art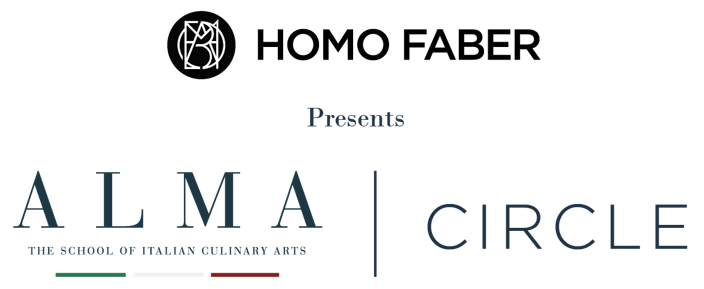 In the fascinating space inside the Compagnia della Vela, ALMA lounge guests will have the chance to discover two exclusive gastronomic proposals and enter the world of the Masters of Art and Craft.
From 12.30 pm to 7 pm, the ALMA Circle will be open to welcome its guests in a unique and elegant space with an amazing view over the Venice Lagoon.  An iconic place, where art, history and taste meet togheter.
It will be possible to experience two gastronomic proposals, both in the name of Italian excellence but differently designed to satisfy both those who are looking for a smart break and those who wish to experience a real gourmand experience.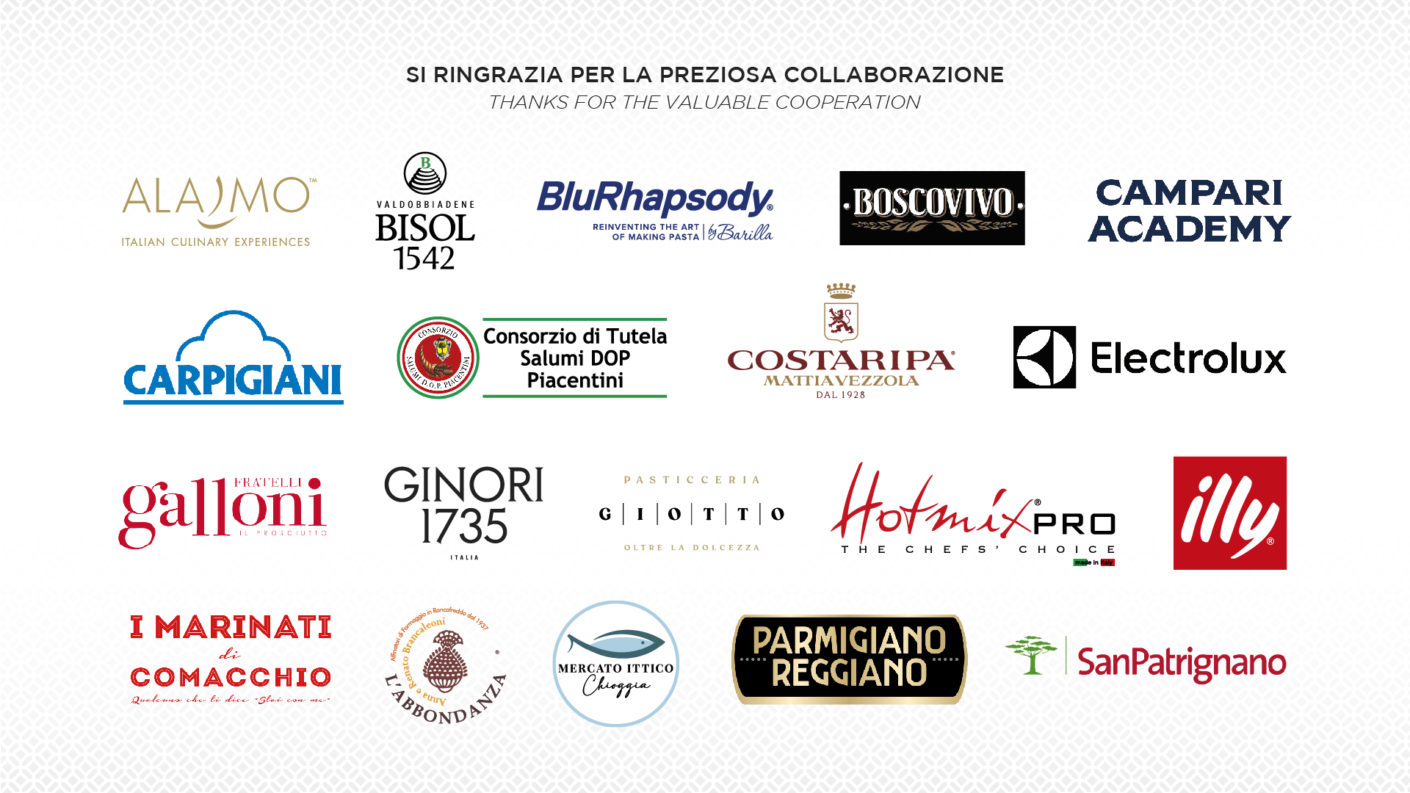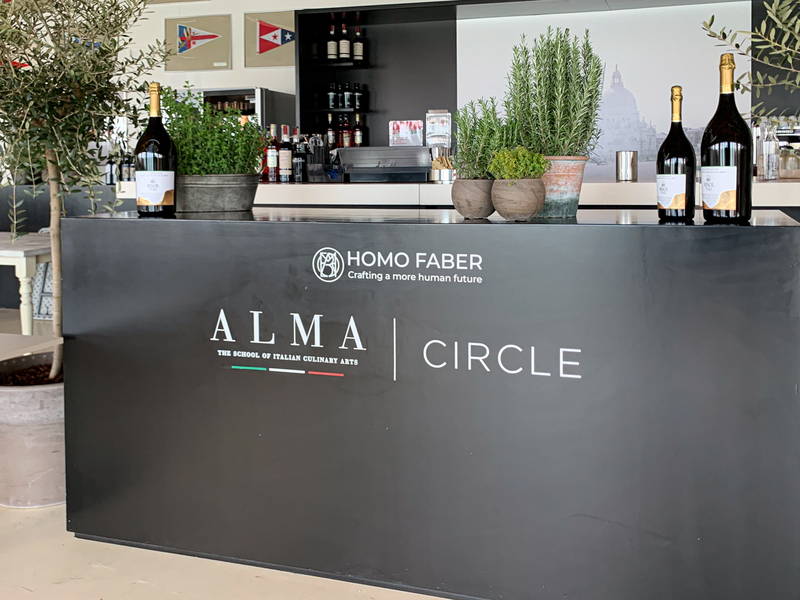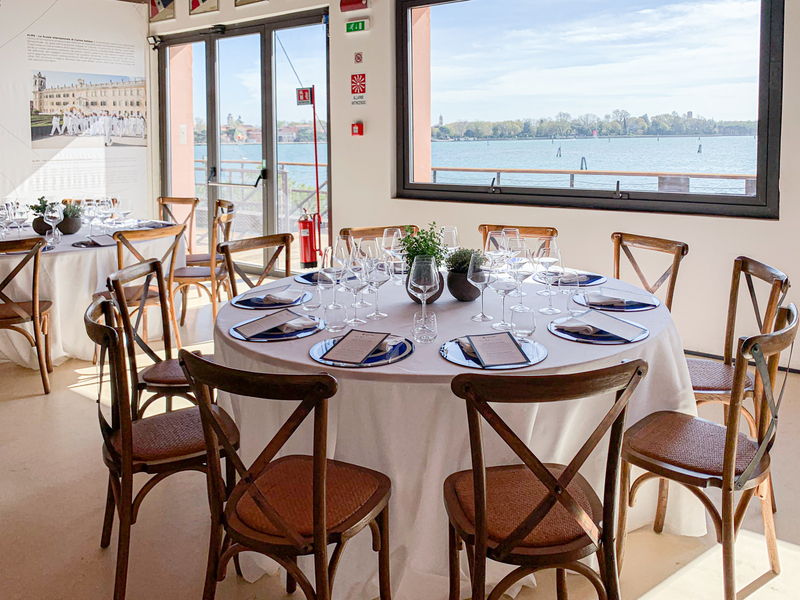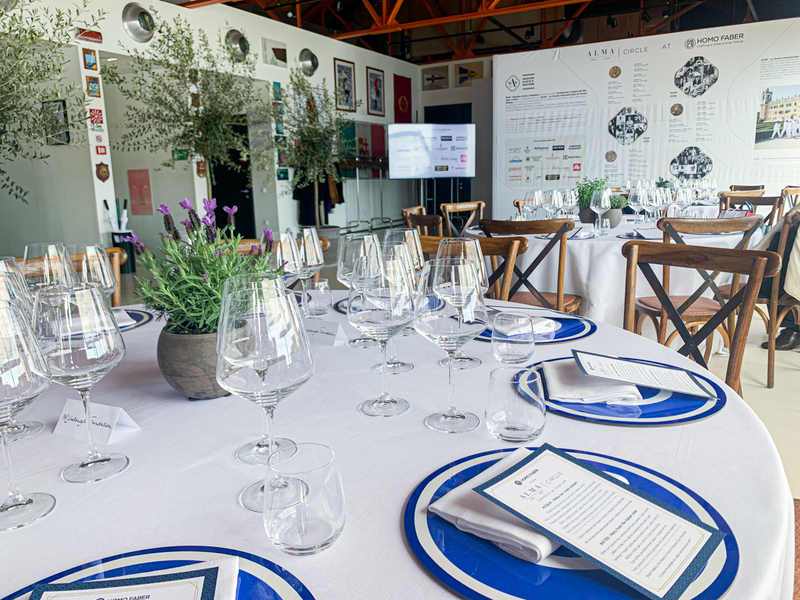 TASTING EXPERIENCE
Savour Italian excellence and discover the great Masters of Arts and Crafts' products.
It's the perfect choice for those who want to enjoy an unforgettable aperitif and feel the emotions of our peninsula's great food and wine craftsmanship.
ITALIAN JOURNEY
For those who wish to enjoy a foodie experience and treat themselves to a fine Italian dining break, in the exclusive setting of the ALMA Circle directly overlooking the Venice Lagoon.
Maestri d'Arte e Mestiere
Maestro d'Arte e Mestiere (Master of Arts and Crafts) is the biennial Award promoted by Fondazione Cologni dei Mestieri d'Arte in recognition of personalities who share creativity, talent, passion, "intelligent hands" that make them the creators of "great beauty" in different sectors.
In the food and wine sector, 13 Masters are awarded at each edition in as many areas, selected by a commission of ALMA experts who, together with the Foundation, created the Award.
On the occasion of Homo Faber, the Maestri d'Arte e Mestiere, together with other figures of the artisan excellence of Italian food and wine, will be guests at the ALMA Circle to tell their stories, illustrate the products, raw materials and ancient techniques of their art and share with guests a common vision of their enhancement.
Below, the list of ALMA Circle guests along this week.