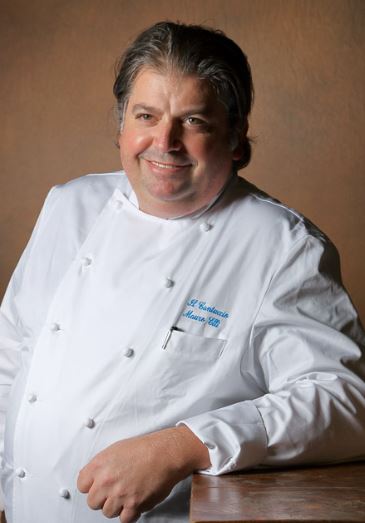 After getting a degree at the Centro di Formazione Professionale Alberghiera in Clusone, in the province of Bergamo, Mauro Elli from Lombardy started his career in a small Italian restaurant abroad, in Scotland, where he remained for four years to complete and enrich his education.  At the end of this experience, he decided to come back to Italy. Thanks to his excellent knowledge of English and French, he started working in the most luxurious hotels of the Ligurian Riviera, such as Splendido in Portofino, and in St. Moritz in Switzerland.
In August 2003 he decided to open his own restaurant leveraging the experience gained and the desire to create something personal.  In Albavilla, in the heart of Alta Brianza, a few steps away from Lake Como, he opened Il Cantuccio that has been enjoying a Michelin star since 2007.
His passion for cooking drives him to teaching, which is why he started cooperating with ALMA.
"My relationship with ALMA started many years ago when I taught there for a long time.  Already at that time, I learnt and shared the values and philosophy of this School that are embodied by the Italian cuisine and characterise it. It also gave me an opportunity to reflect on the future awaiting the new generation's chefs.  Later, I had the chance to teach abroad as well, where I wanted to convey Italian culture and style not only in terms of ingredients, recipes and cooking, but also of approach.  I spent 35 years travelling the world and I can say that also abroad people look for what they hope to find in Italy: taste and stile.  Good and interesting ingredients, rich in flavour and meaning, can be found also in other countries of the world, but what you often look for is also culture and history.  Which are certainly not missing in the Italian gastronomic tradition.
My favourite dish to eat is the one where I feel passion, soul and love.
My favourite dishes to cook are the ones that enhance seasonal products.
3 words to define cooking: Respect (for people, raw materials and the environment), Passion and Ethics.