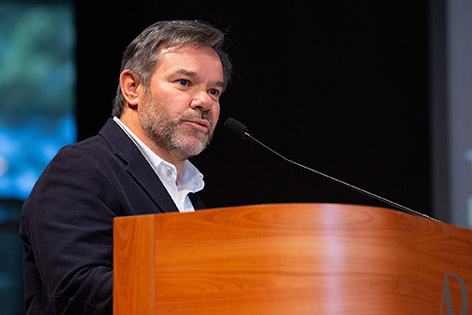 Since 1982 he has been chef at the three-starred La Maison Troisgros restaurant in Roanne, France, which has been welcoming customers for three generations. The son of Pierre and Olympe Troisgros, he studied at the Grenoble Hotel School, where he met his wife.
They shared a passion for the profession, working with names such as Alain Chapel, Frédy Girardet, Taillevent, Michel Guérard, and Chez Panisse. In his kitchen, Troisgros created a perfect combination between regional products and modern flavours through "simplicity with a touch of the unexpected and ironic."
One of the pupils at La Maison was the "father" of modern Italian cuisine, Gualtiero Marchesi, who speaking about the Troisgros years ago said: "From the Troisgros I learnt the precise craft of cooking, a lesson in simplicity and exactness that has stayed with me forever."
Excerpts from his speeches on the occasion of the opening of the 2018-2019 Academic Year and of Career Day.
TO READ THE FULL SPEECHES DOWNLOAD THE PDF
Partecipation
Interview
FROM THE OPENING OF THE ACADEMIC YEAR
"The Troisgros. Four consecutive generations of chefs. It's really intriguing: why did each generation choose this profession? I don't know, perhaps we simply liked it. We feel a contagious joy about doing this job, about practising this art."
"Gualtiero constantly wanted to learn, do research, go beyond traditional approaches and create. My father, who is now 90 years old, told me that he clearly remembers this man who stood out among the others, elegant, delicate, with the appearance of an intellectual, not an ordinary chef, a person who paid great care to all aspects of cooking, had a sensitive relationship with food and asked a thousand questions "How do you do it, how can I improve it, where does this product come from?' 
Gualtiero Marchesi worked very hard to transmit his ideas and teachings to young people, at ALMA and elsewhere during his incessant travels, announcing – just as a prophet does – a message, "the word", as it were, the best word."
"The world has changed so much that, today more than ever, chefs must be concerned about resources and therefore about the environment. The protagonists of the haute cuisine world play a key role in this evolution, which combines preservation of food diversity, healthy nutrition and solidarity towards small producers. Many of them have acted as trailblazers, discovering new flavours, reducing waste to a minimum, and where possible working with every part of the product. This is the no-waste and recycling age and we need to set an example for our chefs in order to usher in a new way, with a really strong focus in Italian and French society on homemade food and attention to the origin of products and their quality."
FROM CAREER DAY
"There is a strong dynamic of reciprocity and mutual trust with our customers. Trust is the key element between us, making it possible for customers to share in the harmony that pervades our restaurant, in the sense that they can enjoy what I refer to as collective harmony. It's not something easy to achieve. There is real trust in the chef, who in this case is also the owner. I believe that this "secret" enables us to go on year after year, creating a mix of elements wanted by the customers.
"If I had given up on my experiences, on myself as a person, in order to carry on the history traced by my father, I would not have been myself. So I said to myself: okay, I will go back home, and continue on this journey based on my certainties but without neglecting the tradition of the restaurant! The clientele considered Troisgros an untouchable, immutable institution. To be honest I went through a difficult time, because I was not free to express myself. However, my wife Marie-Pierre has always been my bedrock, giving me certainty and strengthening my beliefs."
"Our Maison has a soul, a soul that is also modern, and it's a place well suited to a tasting journey; in addition to this you need to be kind when welcoming customers. In a restaurant such as ours we must show the greatest courtesy and kindness, qualities that are somewhat innate. It's better to smile for the pleasure of smiling, for the pleasure and passion in your job, rather than force a smile."
"As for cooking, it must be based on a simplicity whose very naturalness can amaze, a cuisine that stands out from the rest. In short, the result of many things, with what we could define as a typical Gualtiero Marchesi style: a deeply honest cuisine that does not insist on following trends, but is something that evolves and is underpinned by ties to the local area and respect for nature and raw materials. This is my idea of a great restaurant!"