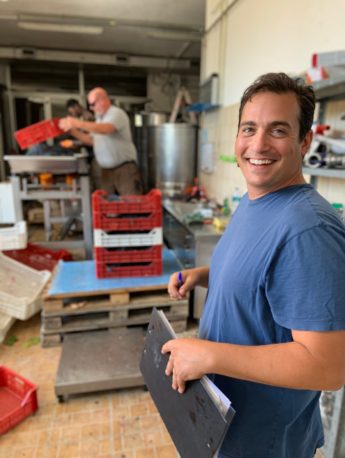 Hi Christopher, let's start with three adjectives to describe yourself:
Optimistic, good-humored and inquisitive.
What is your favourite Italian dish? And the American one?
Favorite Italian dish to cook would be tagliatelle Bolognese.  Making pasta puts me in a state of Zen, so creating the tagliatelle is the perfect start to the dish.  The second part, the sugo, is of utmost importance.  Coming from the United States, people think they know about Bolognese, but it's very hard to find something even close to what you would find in Bologna! Once I first tasted real, traditional Bolognese, I said "oh wow, Bolognese isn't red sauce with ground beef!"
My favorite American dish, or meal for that matter, would have to be Thanksgiving.  This meal takes time to prepare and the delicious smells permeating the kitchen fill the whole house and bring back memories of my childhood with my Grandma Bucky. This meal embodies what cooking and food is about, which is to spend time together creating new memories while also reminiscing about the old.
What did the experience at ALMA represent for you? What is ALMA for you?
The experience at ALMA represented a change of life for me, and a true understanding of Italian food. Coming from an Italian American family, I grew up eating the home cooked foods of my grandparents, which I thought was Italian food.  As I got older and did a bit of travelling, I noticed that Italian food was much more diverse than I was used to and I was interested in learning more about the cuisine. When I decided to make the leap and go to culinary school after working in finance for 8 years, I jumped at the opportunity to participate in a school that included a few months of studies in Italy. I was amazed at the variety of regional cuisines that were barely represented in the United States and it drove my hunger to learn more.
One of the most rewarding parts of the course were the 20 guest chefs from all over Italy who would come and do a demonstration on their cuisine.  This was truly an eye opening experience, to see some of the country's most talented chefs such as Antonino Cannavacciuolo and Pino Cuttaia, showing us their dishes from under a meter away.  When I finally went on my stage, I was given the opportunity to work at Uliassi, a then 2 Michelin starred restaurant where I was shown a deep respect for ingredients and learned modern techniques that were at the time being practiced only by few.  When the course was finally over and I returned to New York, I realized what ALMA meant to me: it was where the basis of my professional cooking career was born and I often reflect back on those few months as one of the most important and best times of my life.
Tell us about Tenuta Marino.
Tenuta Marino is our new family-run business and home, where we are currently producing organic olive oil, quality wine, and seasonal preserves. Coming from New York City to the small town of Monterado in the Ancona province is not the first place you would expect us to plant our roots; yet it was familiar to me, as it's just 15 minutes from the beach resort town of Senigallia, where I did my stage at Uliassi. Before we decided to make the move, my wife and I were working in the hospitality industry at renowned hotels. When I had found out that the hotel I was working at would be closing for up to three years I immediately started looking into my options. Throughout my wondering of what's next to come, my wife's parents happened to also be looking for a new home.  They were looking towards Bologna, and while in the area, I mentioned they should go to lunch at Uliassi.  While in Senigallia, they decided to go check a property out, and what they came upon was not only a house for sale but also a vineyard and olive grove. They filled me in on the property they had visited and I began daydreaming of what it could be.  Being I knew the area, I was intrigued by the possible opportunity, and with my wife (5 months pregnant at the time) we thought a change of pace to a more serene setting might be good for our new growing family compared to Manhattan. With little to no experience, save Matteo Pessina's wine course at ALMA, we were going to now be producing wine and olive oil!
Nestled at the base of a small valley, the 8-hectare land is broken into three parts, the first being a 2-acre olive tree farm. The vineyard itself spans 4,5 hectares of land and is home to four red grape varieties: Sangiovese and Montepulciano, two of Italy's most noted, and two French powerhouses, Cabernet Sauvignon and Merlot. 500 newly planted Chardonnay vines were this year's welcomed addition to the tenuta. The last portion of the property is a large frutteto, with over 30 trees including apples, pears, apricots, figs walnuts and persimmon.  We make seasonal jams and preserves, using whichever herbs compliment the right fruits, such as our yellow plum saffron jam or our apricot preserves with rosemary and lavender.
While there is a lot of work yet to be done, we are excited for the eventual release in 2021 of the full line of products and continue to learn something new every day. The culture in this area, as it is in most of Italy, is based on truly respecting the land by using it to its maximum capabilities. The ability to take part in a process so basic yet necessary is a far cry from our old city life, where everything was just a card swipe away, but the rewards make you feel like you're a part of something that is pure.
What do you recommend to a chef who graduates from ALMA and would like to enter into this world? What experience he/she cannot miss?
For those graduating from ALMA, you have been given a great opportunity to succeed in ways far and wide. Entering into the world of the kitchen is an undertaking that is not for the faint of heart. It is a commitment and a passion that must come from inside. One thing to keep in mind when leaving for the work force is to be open minded and keep learning everywhere you go. I think as a young cook, it is important to experience working in different kitchens, to expand your culinary knowledge and cooking skills. To be a well rounded chef, being able to cook not only your food, but the food of other cultures is a welcomed skill set and will get you noticed wherever you land your knives.
What will be like – or what kind of features should he/she have – the Next Generation Chef?
I think the Next Generation Chefs have a lot of opportunity to shine in the industry. One thing there is no shortage of in our current world is information. Gone are the days of the cookbook unfortunately, as romantic as they are, and in the internet age, there are countless ways to see what's new and evolving in the industry. The ability to search and adapt to what's new while keeping your own roots and style will be a key feature in the current market. It is important to keep abreast of the trends and learn new things but this shouldn't be the only thing we look out for.  Know who is leading the industry, what they are doing, and how you can learn from them.