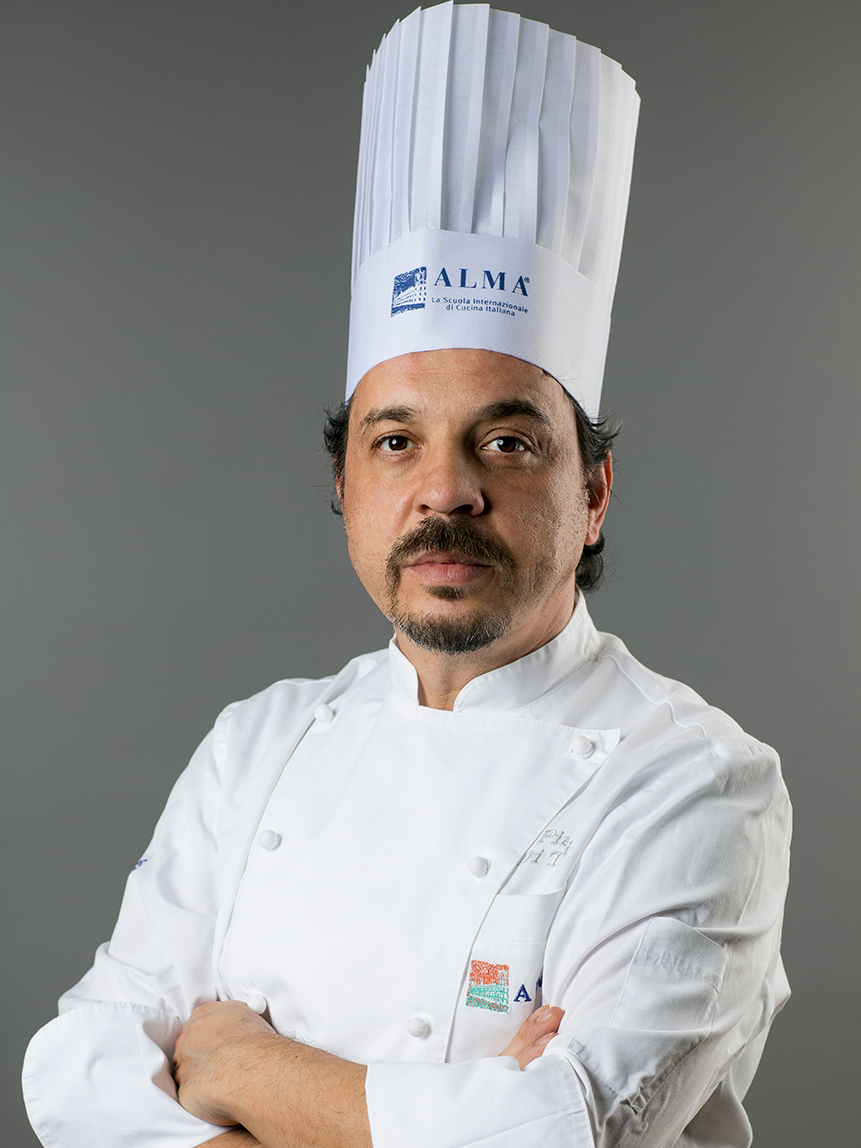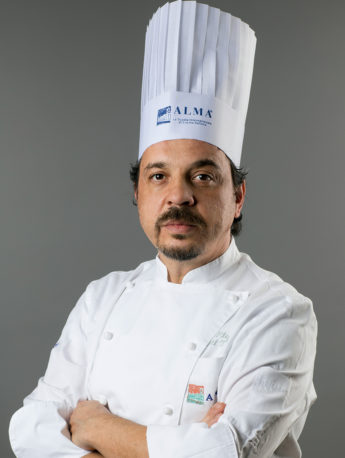 Favourite dish to eat:
pasta with butter, garlic, basil and Parmesan cheese.
Favourite dish to cook:
fresh pasta and fish
Cooking in 3 words:
food, beauty, colours
Born in Trieste into a family from the Puglia region, Piero Di Turi embodies the figure of the Chef in every way. Born in 1973, he grew up observing and admiring his grandmother who, every Sunday, would get up early in the morning to prepare lunch for the family. Food is the point of contact between people, it's food for thought, an opportunity for discussion, the driving force for coming together as a family. But what fascinated Piero most, even more than the delicious food his grandmother would cook, was her behaviour during lunch. She would be quiet and watchful, and break into a small smile only when she would see someone expressing their enjoyment of her dishes. Taking pleasure in the joy of others is the hidden fire that every chef carries inside.
De Turi has the innate talent that reveals itself first of all as intuition and then as technique. After understanding what was a Chef's main purpose, namely producing something for the sake of creating pleasure, he embraced another great maxim: there is strength in union. His arrival at the Eden Hotel in Rome, where he worked as Junior Sous Chef, was a turning point. Antonio Guida, Nino di Costanzo, Michele Gioia, Daniele Usai and Giovanni Ciresa very quickly became a kind of extended family, with which he developed a lasting connection. The team spirit, the mutual respect that goes beyond professional expertise, and the trust between colleagues were enlightening for Di Turi, who, with a suitcase full of love, after a brief time at the Cracco restaurant, moved to London, into a very exclusive circle, and then to Venice at the Bauer Hotel.
Having once crossed the road bridge Ponte della Libertà it's hard to find the desire to return to the mainland. But if this relocation becomes necessary, then one may as well follow in the wake of beauty, and so he moved from San Marco Square to ALMA, located within the Colorno Ducal Palace, as teacher of the Advanced Course of Italian Cuisine and of the ICP Course for international students.
Topic: cross-cultural influences. The interweaving of flavours and colours from different places is mirrored by different people sharing them.
The teacher's courses