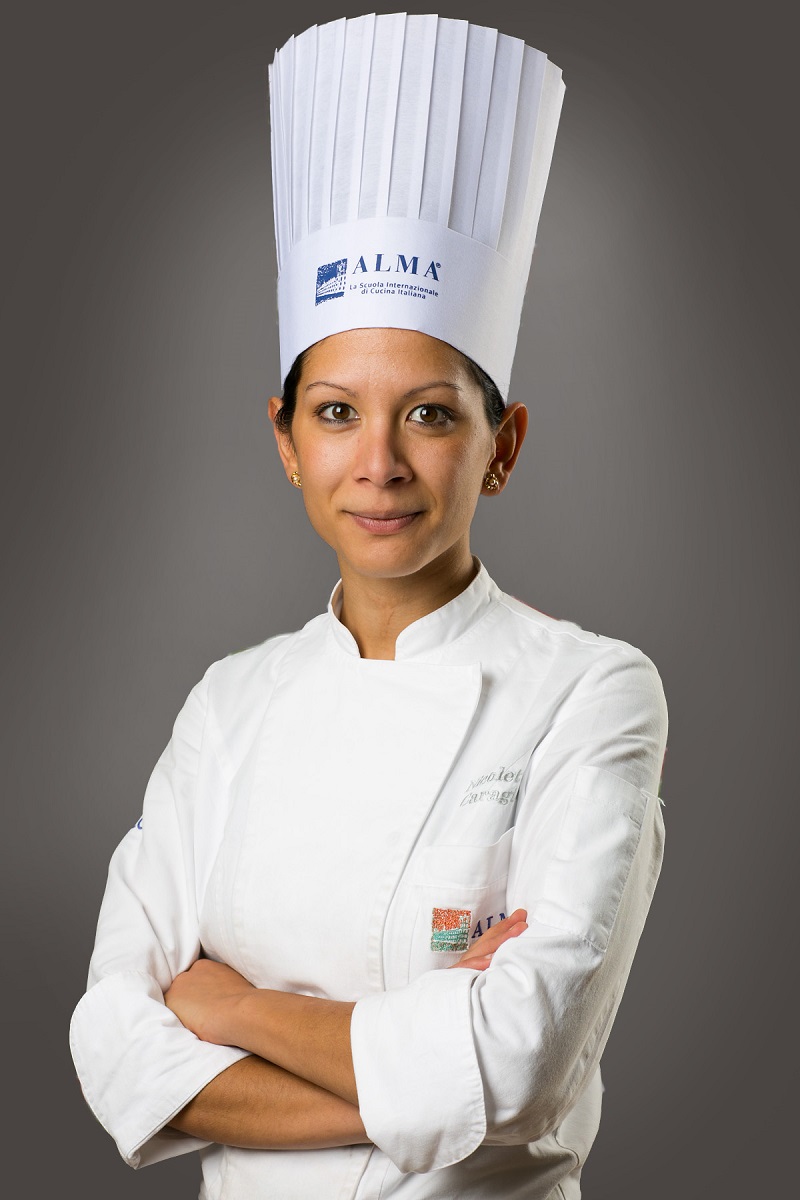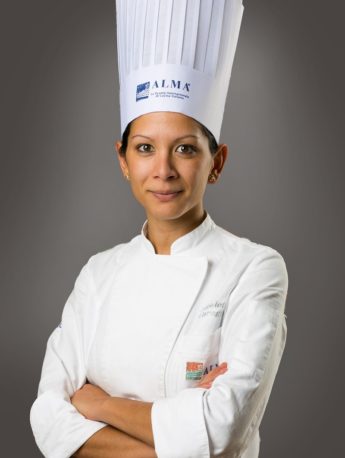 Her encounter with ALMA at the young age of 15 bowled her over: at the time a student at a Hotelier Institute in Reggio Emilia, Nicoletta Caragica walked for the first time through ALMA's doors during an orientation visit. And it was at that moment that she told herself: "I want to come back here."
At first as an intern during her studies, Nicoletta Caragica began attending classes and laboratories among the students and next to the lecturers' desks, and breathing "the air of ALMA", which in the following years would be her motivational oxygen. After obtaining her diploma in Hospitality and Catering, she had different professional experiences in the area, waiting for an opportunity that would take her back to Colorno. This arrived when she was invited to work as assistant to Teaching Chefs in ALMA's Advanced Pastry Course.
During those years, Nicoletta Caragica worked alongside the ALMA Teaching Chefs, "at the best School, with a capital S, that I could ever have ended up in". She learnt to run the pastry labs and followed each single lesson with the aim, one day, of become a teacher herself. After a few years she became responsible for the demonstration lessons given by both ALMA Teaching Chefs and by external Guest Chefs, Masters and renowned Pastry Chefs participating in the courses and for whom Nicoletta Caragica acted as main assistant: from MOFs Angelo Musa, Paul Occhipinti and Arnaud Larher, to World Champions Davide Comaschi, Luigi Biasetto, Emmanuele Forcone and Ettore Boccia, a constant source of training, learning and development for her professional growth. Her professional training was then completed in France at the Ducasse Education Ecole Nationale Supérieure de Pâtisserie, where she attended an advanced French Pastry course and met Master Chefs of the calibre of Cédric Grolet and Marion Baralon.
Then the time came for her, too, to take the great step and become a teacher: the Pastry Techniques Course is an adventure that has catapulted her to the forefront of teaching, and given her the opportunity to discover a new side of herself: "Helping young people not just with their training and their studies, but above all to get to know themselves, their own abilities and potential is what I find most gratifying about  my role as teacher. It's nice to know you are helping the students to reflect and to make them more aware of what they really want to do when they grow up, encouraging them to follow their passions and talents and giving them the right advice about "launching themselves." The Course I teach is the first advanced pastry training experience that a young person can have and often it's more of an opportunity to understand what they really want from life than to learn the techniques or the job itself."
Favourite dessert to eat: Diplomat Cake
 Favourite dessert to prepare: plated desserts
 Pastry in 3 words: Refinement, art, culture
The teacher's courses