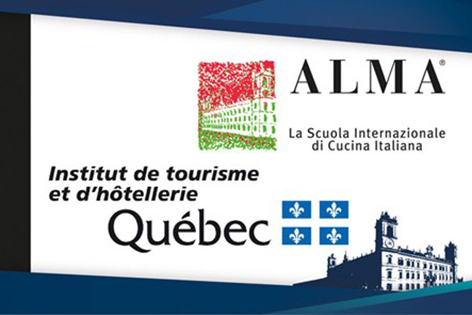 The Italian know-how: ALMA in Canada at l'Institut de Tourisme et d'Hôtellerie Quebec with the chef Gaetano Trovato for a masterclass on the Italian cuisine.
Montreal en Lumière is one of the largest winter gastronomic festivals in the world. ALMA during this event has been invited by l'Institut de Tourisme et d'hôtellerie Quebec. Founded in 1968, the Institut de Tourisme et d'hôtellerie du Québec is now one of the finest hotel management schools.
Featuring a number of unique installations, including two restaurants and a 4-star teaching hotel, the ITHQ has a 50-year history training the chefs, restaurateurs, wait staff and sommeliers who shape the gourmet canadian landscape.
ALMA Guest Chef, 2 Michelin starred, Gaetano Trovato, will be in thr ITHQ for a masterclass on the italian cuisine and a pairing dinner in the Maison Boulud, one of the finest dining restaurant in the city.
"Gaetano Trovato is the interpreter of culinary classicism applied to Tuscan authenticity. Having been a Michelin-starred chef for 30 years, his new project, along with brother Giovanni, is to move the historical Arnolfo Restaurant to the hills of Siena. This choice stemmed from the desire to celebrate the success that made the Trovato family renowned all over the world for the artistry and sensitivity applied in pairing the precepts of classical French cuisine with the more authentic spirit of Tuscany.
Guest Chef at ALMA since 2004, the birth year of the International School of Italian Cuisine, Gaetano Trovato is ALMA's ambassador of Made in Italy in the world. He defines ALMA as the bearer of the values of beauty, goodness and health, common values to his cooking philosophy. To teach, transmit and disseminate in a professional manner the quality of Italian products and regional traditions is the mission that every chef teaching at ALMA carries forward. According to Gaetano Trovato, contemporary culinary art can be achieved by placing taste at the centre of the creative process, and gathering around it the colours and beauty of each ingredient to create a recipe with local character re-read in the key of a new Italian cuisine".