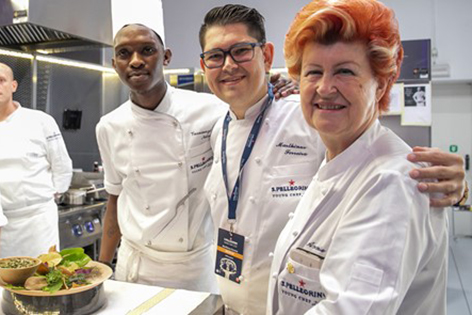 How does it feel to take part to an international culinary contest? How does it feel to work side to side with the greatest chefs in the world? How to manage the pressure to plate up the dish on which depends the success or the failure of a chef?
These are the typical questions that hound the mind getting reaty for a competition. In ALMA, the situation is slightly different. In fact, some of the graduates of the International School of Italian Cuisine had the possibility to take part to "SPYC" helping the young chefs in the realization of their dishes for the competition.
It was a demanding yet exciting 2-days experience. In one single room, gastronomic cultures from all oveer the world get together and confront themselves. For ALMA students, it was not an easy task. Each of them met the young chef on the day of the competition, finding themselves in the middle fo the chef's creative process. Every hopes, dreams and ambitions of a chef coming from the other side of the world were shared with our graduates, who turned into keepers of someone else's emotions.
The event was fascinating and instructive, meeting the chefs and their tutors was extremely valuable both from a personal and professional point of view. Having only one chance to confront with the competitors, the recipe and the ingredients, the greatest challange was to ensure that everything was prepared as desired and avoid disruptions. I think that SPYC is an amazing and useful event, both for the participants and for the gastronomy wolrd in general, since it gives the opportunity to confront and exchange ideas, starting from the inspiration and wish to succeed of young talented and motivated chefs. A unique experience. 
Carlo Maria Ricci, graduated of the Advanced Course of Italian Cuisine – ALMA
We have had an ongoing relationship with San Pellegrino for the last few years and they relied on ALMA for both the work behind the scene of selecting the thousands of recipes and young chefs, as well as the technical support during these das of competition. Tonight we experience in this beautiful setting what we experience in ALMA on a daily basis, in other words we see young talented chefs seeking their destiny. All of this is energy for us…and the reason why we feel at home. 
Andrea Sinigaglia, General Manager of ALMA