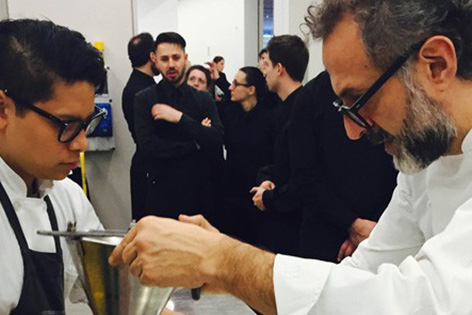 ALMA student hired by Massimo Bottura, one of the best chef in the world.
From ALMA to the kitchen most famous and acclaimed Chef in the world – according to the influential ranking "The World's 50 Best Restaurants" – the step was quick for Allen Huynh. The student of the International School of Italian cuisine, Canadian of Vietnamese origin, has won a place at the prestigious restaurant "Osteria Francescana" in Modena with Chef Massimo Bottura.
Allen has specialized in "Italian Culinary Arts" at the George Brown College in Toronto and arrived in Italy in 2014. Trough ALMA he has improved the knowledge of Italian cuisine and he did an internship at the restaurant "Villa Crespi" (two Michelin stars), under the guidance of Chef Antonino Cannavacciuolo.
Within the project "The international mobility of labor" together with the Ministry of Labour and Social Policy, Allen Huynh had the opportunity – thanks to ALMA – to make an internship in Modena, which ended in April in 2016 with a contract. Nowaday, he has been working in this great and interesting restaurant, improving everytime his capabilities.
So ALMA, the world's leading international educational and training centre for Italian Cuisine, continues to form extraordinary ambassadors of the excellences and gastronomic culture of Made in Italy.